The Condair ME provides low energy humidity control and evaporative cooling to an air handling unit.
A single unit can provide up to 1,200 Kg./hr of humidification and 822 kW of evaporative cooling to an air stream while operating on less than 1 kW of electricity. As well as being economic to run the Condair ME is also easy to operate with an advanced touch screen control panel, simple to maintain with industry leading service features and employs the latest in hygiene technology.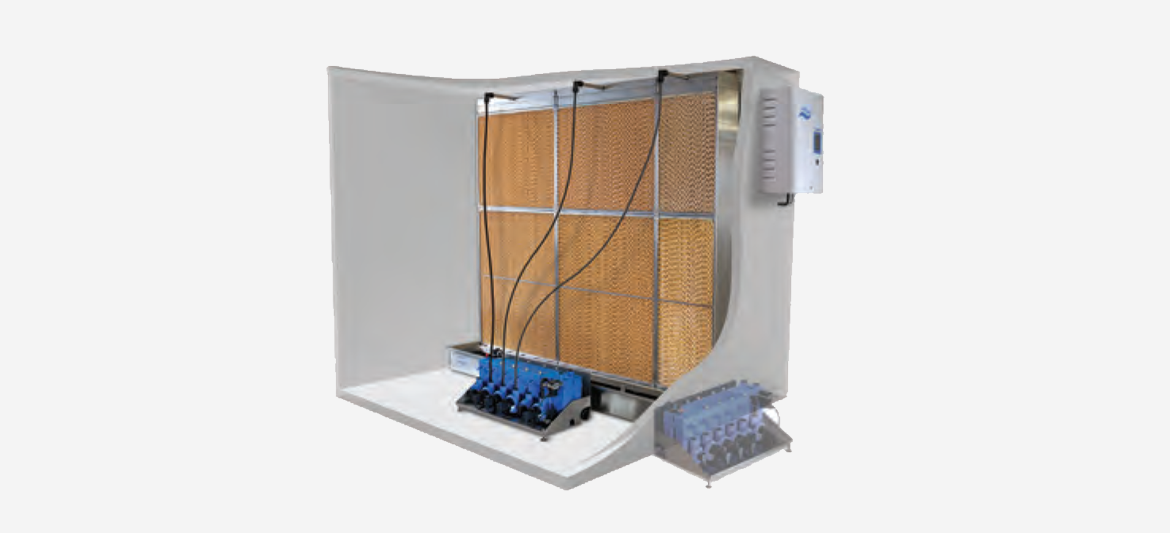 The self-contained hydraulic unit supplies water to the top of the evaporative module, Exterior mounting is also available as an option which enables most servicing to be carried out without having to shut down and enter the air handling unit.
The Condair ME incorporates up to seven low energy 32W pumps rather than single large pump. This allows proportional energy consumption to system output and provides up to seven-stage control as standard.
Condair ME Series Evaporative Humidifier Features & Benefits
Electronic multi-level sensor ensures reliable and accurate water level monitoring.
Toughened glass fibre reinforced tank with anti-microbial impregnation media.
Condair ME series humidifier operates on low energy and has magnetically driven DC. It also offers long service life and multi-stage control as standard.
Pump-assisted drain for faster draining.
Removable cover offers easy access to the tank.
For externally mounted applications, it comes with a pressure equalization spigot.
It offers a single drain connection (reversible left/right) with integrated overflow.
For rapid exchange of components and splash protection, it comes with an integrated electrical cable harness (rated IP67).
Water conductivity sensor (optional)
Submerged or in-line UV water treatment (optional)
Silver-ion treatment (optional)
Why Choose Condair ME series Evaporative Humidifier?
It offers high humidification and cooling duties from a single unit.
Evaporative cassette with fibreglass media constructed with a 304 stainless steel frame for easy installation.
These humidifiers offer long life pumps with magnetic impellers for frictionless motion.
Virtually silent operation alongside extremely long service life.
It consumes very little power and comes with up to seven-stage control as a standard.
You can choose between two variants – internal or external mounted hydraulic unit.
Flush and drain hygiene control along with an advanced touch screen control panel with BMS compatibility is offered as a standard.
It is independently certified to be non-particle releasing and fire-rated Euro Class A2-S2-D0 (UL900).